Process
Craftsmen
Frazer and Haws'craftsmen are from families of sixth or seventh generation goldsmiths and silversmiths. Our workshop equipped with state-of-the-art tools produces products that meet tough international standards with ease.
Silver In Its Raw Form
Silver comes to the factory in the form of solid bricks of 99.9% purity. This is melted in a furnace and mixed with the imported alloy to bring the silver to 92.5% purity, of international standard.
Sheet Making
Frazer and Haws draws its own sheets to control the thickness which sometimes is as thin as 0.6mm. This is only used when silver sheets are required to cover a small area. Most sheets are 2-3mm, going up to 5mm (cutlery). Anything less makes the silver very tinny and dents easily. Silverware available in the market is generally very pliable because thinner sheets are used. Items made from thin sheets may look big but the silver content is fairly low.
Design
With a qualified in-house design team, Frazer and Haws stands head and shoulders above all others silversmiths. All F&H designs are original. Carefully drawn on cartridge sheets, the drawings are detailed with side, front and top dimensions. Once the drawings are ready, prototypes are made and checked for lines, design, practicality, tenacity and weight. Once the prototype is approved the item is sent into production.
Casting Process
Investment casting process reduces porosity and provides precise replicas. Sand casting, which is used by the masses results in trapped gases and other impurities resulting in an uneven product. People generally use sand casting as it is cheaper and fester but they do so at the cost of quality, which is where F&H does not compromise. Master makers and chasers use pendant motors, imported emery papers (German), and silicon carbide or diamond burrs from England to chisel out the fineness. There are 40 different kinds of tools to give the required shapes and dips in the silver pieces. After the first polish, the pieces go for hand chasing because some minute detail tend to get lost in the first polish. Final polish follows soldering which is when the silver gets its real elegance.
Die Making and Punching
When crafting objects in larger numbers it is important to work with 'dies' to ensure uniformity. After creating a 'master' - a die is first made in die steel, which is put on special machines with the silver sheet to punch out the requisite shape.
Solders
Generally silversmiths in India use lead solders which could be poisonous. Besides being bad for one's health it is heavier, therefore, the weight of the silver article goes up. Frazer and Haws, on the other hand uses only silver solders that adhere to the international norms. Hard, medium and easy solders are used according to the requirements. A good soldering is that which can't be seen. Frazer and Haws ensures that the original purity of silver i.e. 92.5% is maintained even after soldering.
Chasing
In this process the chaser makes a wooden block, puts on shellac and the sheet is pressed on it at the right temperature, so that it adheres to it. The exact detail of the design are first made using a sharp tool. The sheet then goes through an extensive process of hammering from the front as well as the back using a variety of punches, chisels and hammers. The dents around the area are removed by filing it or sand papering it. For polishing micro motors are used. Tiny little buffs with abrasive hair are used to even out the surface.
Etching
To get any fine details or intricate design on a product as also to provide branding for corporates, F&H has an exclusive team for etching and engraving. We use the acid etching process whereby the design is transferred on to the silver product. The acid cuts into the silver leaving details of the required design. The process is accurate and requires highly skilled craftsmen.
Engraving
Engraving is used to add detail and design in a product. The design to be engraved is transferred on to the product by drawing with one's hands or by tracing the design on to the product from paper. Then, with extra sharp tools called "bullys" the design detail is physically etched out. Different tools are used for varying the depth or thickness as per the guidance of the design team. This process requires an eye for detail and very accurate hand pressure to get the desired result. If not done carefully the engraver runs the risk of injury.
Piercing
One of the most eye catching and attractive work is 'PIERCING'. In this process the design is traced out on the product by hand. Then the 'master piercers' get to work. Using fret saws with imported blades they saw out the design with an eye on detail. Frazer and Haws has many skilled 'master piercers'. A slight slip of the saw and the entire piece is a write off.
Spinning
Spinning is an integral part of a silver manufacturing unit. Frazer and Haws has a number of spinning Lathe machines as also artisans to operate them. Using dies and appropriate tools the spinning masters spin out products like diyas, bowls and vases. Selection of the right tools with the right amount of pressure is required to get the optimum results.
Surface Finishes & Textures
Through constant R&D, our designers and master craftspersons have been able to change the plain looking and uni-dimensional finish of the usual silver to different finishes like 'rice hammered', 'round hammered','triangular hammered', matte and satin among others. This is an on going process and there is a constant and conscious endeavour to come up with fresh and unique finishes.
Finishing Process
STEP 1:"CHHILLAI" – SHAVING
A local term for smoothening the surface product. This is done by machines as well as by hand. On a round surface the machines even out all excesses and uneven marks to give it a clean sand papered look and feel. On surface other than the round, 'chhillai' is done meticulously by hand.
STEP 2 :PUMICE TABLE AND PUMICE STONE
Unique to F&H, pumice stone is used to remove the dents and file marks. The Lanka Bridge made by Lord Ram that floated was supposed to be of pumice stone. It is very porous and very light. Made out of volcanic eruptions, F&H imports it from England.
STEP 3 : POLISHING
F&H uses 60 types of buffs for polishing. 40 of these are imported from England. From the tiniest indentation to larger pieces, silver comes out sparkling. Buffers like bristle, matte, brass, lathe buffers, felt buffer, cotton, linen, plastic bristle, steel wire, leather, wool, in various sizes and shapes are used depending on the product. Canning rouge for luster is imported. In the market denim is used as a buff. This gets caught in piercing and torques the shape of the product.
STEP 4: GOLD GILDING
Pen gold gilding process is used for small surfaces. For larger surfaces, the area to be kept in silver is lacquered; entire product is dipped in 24K gold solution and electroplated for the gold finish. Lacquer is then removed .The product is then sent to the ultrasonic bath, and a gentle muslin cloth wipe completes the process.
LACQUER
Water has to be dried with soft muslin cloth so that no water remarks remain. Then it is dipped into a clear lacquer solution, and dried in a dust free environment in a 100°C, dust free chamber. In case of gold gilding, it is done before the lacquering process. The products are placed in a dust free room on a clean shelf to dry.
Stone
A large number of Frazer and Haws unique products have an element of stone in them. Hence a strong team of stone cutters and polishers is maintained who work with marble, granite and softer stones like black 'cuddapah.' They use the latest grinders, polishing tools and polish material to arrive at the right finish from high shine to dull.
Terracotta
Frazer& Haws terracotta craftsmen use special clay brought from Kolkata to handcraft each and every piece with minute detailing. They use the latest furnaces to bake the product to the exact degree required. The product is then coated with our special terracotta and binder solution to give the unique Frazer & Hawscolour and look to the product. The team works round the clock as it is a time consuming process and their efforts can be seen from the vast array of terracotta best sellers which F&H is well known for.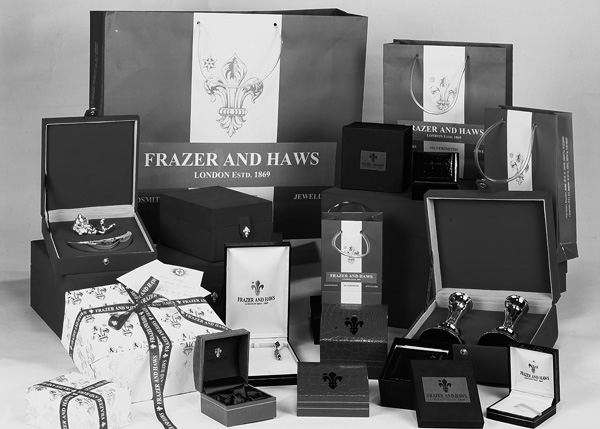 Packaging
All Frazer and Haws signature fitted boxes in our trademark red velvet with the F&H hot stamping and the Fleur de Lys silver plated button are manufactured in-house. This enables us to make fitted boxes for any and every product irrespective of size. The boxes while looking delicate are sturdy too. A lot of thought and research led to the creation of our carry bags. They are typically Frazer and Haws with an attractive colour combination and can take the weight of our bigger products too. To complete the picture we have specially designed wrapping paper and exclusive red ribbon for gift wrapping options. Each and every product has a guarantee card along with it, which while guaranteeing the purity of sterling silver used also carries the F&H mark and the year of manufacture. The tissue paper used for packing the product was finalized after rejecting any number of samples to ensure that it does not scratch the extremely sensitive and highly polished silver articles.